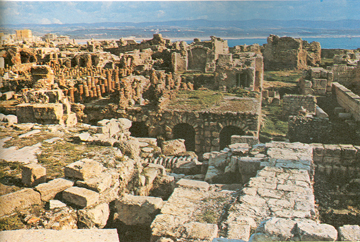 Is "Ancient Tyre," America's True Birthplace?
I have already written about:
"The Impending Destruction Of The United States [or, The False Prophet Of Revelation]"
- in several of my previous postings. However, I can now offer you an increasing number of highly-specific details regarding it. Therefore, I have decided to post upon this topic, yet again....
The Proclamations Made Against
"
Latter Day
"
Egypt
- which are found in:
Isaiah Chapter 19
and
Ezekiel Chapter 29
- are
Parallel
and
Concurrent Prophecies
with
Those Made Against
"
Latter Day
"
Tyre
[aka, America, or Tarshish]. These, can be found in:
Isaiah Chapter 18
,
Isaiah Chapter 23
,
Ezekiel Chapter 26
,
Ezekiel Chapter 27
, and
Revelation 6 verses 7 through 8
.
The Destruction Of Both Of These Prophesied Nations
come about
At The Very
Same Political Juncture
in human history - according to the scriptures, where it states quite plainly:
"When the report comes to Egypt

[at the time of Modern Day Egypt's great trouble - which is found in Isaiah 19 and Ezekiel 29]

, They also will be in agony at the report of Tyre

[In Modern Day Tarshish - as foretold in Isaiah 18 and Ezekiel 26]

."

- Isaiah 23:5.
"And it shall come to pass in that day, That Yahweh will thresh, From the channel of the River

[The Mighty Mississippi]

to the Brook of Egypt

[The Well-Renowned Nile]

; And you

[The Israelites]

will be gathered

one by one

[I shall not miss even one of you]

, O you children of Israel

[The ones whom I love]

.

So it shall be in that day

[This shall certainly occur]

, That the great trumpet will be blown

[The trumpet heralding Yahweh's Great and Imminent Feast to be held at The Wedding Of The Lamb]

; They

[The Children Of Israel]

will come, who are about to perish in the land of Assyria

[For their Humanly-Led and Aryan Government would desire to kill them within that nation]

,

And they who are outcasts in the land of Egypt

[And The Israelites who also dwell there as well]

, And shall worship Yahweh

[Their Creator]

in the Holy Mount at Jerusalem

[At The True Table of His Feasts]

."

- Isaiah 27:12-13.