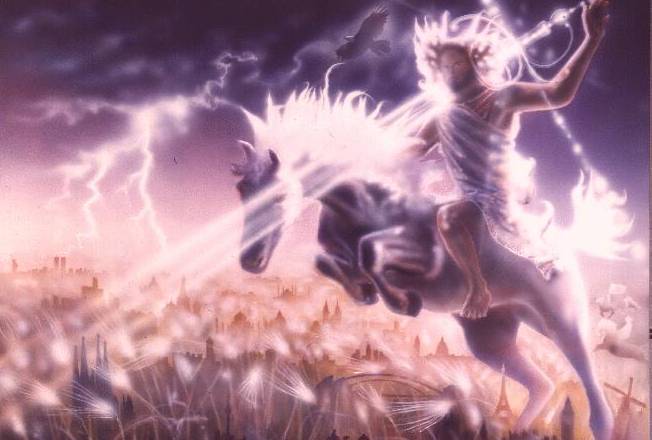 Yahshua, The Conqueror....
A large number of people today have finally woken up to the fact that
Yahshua
[aka, Jesus] was actually
Our Creator
- as so clearly recorded within the scriptures. After all, the references to this fact are found within both:
The Old
and
New Testaments
and are seemingly quite numerous. For this reason, alone, I would like to congratulate you - upon opening your eyes to
A Very Great Spiritual Truth
, as found within the sacred scriptures.
Alas, however, this knowledge has led to several new errors regarding
A True Understanding Of Yahweh
. For instance, there are those who [now] believe that Yahshua is Yahweh Himself - rather than His properly-understood personal creation.
Consider, The Following Well-Intentioned Video:
The fact that so many
[Self-Professed] Believers
continue to careen wildly - between such extremely divergent theological views - is indicative of
The True Underlying Problem
. Rather than studying the scriptures, for themselves,
"Daily, to see whether it so"
- they continually just adopt whatever
Theological Position
has been spoon fed to them by their chosen leadership. By continually drawing attention to certain scriptural verses - at the expense [or, certain neglect] of yet others -
These Unscrupulous Men
continue to hinder them, day after day, in their relatively lethargic spiritual efforts. This current doctrinal error notwithstanding.
For the sake of brevity, let me just give you
Another Scriptural-Based Video
to [equally] consider. Albeit, one which has included a far more balanced number of biblical references.
The Truth About Our Creator Yahshua:
The first thing that you'll notice is that this video is entirely text based. As such, it is strictly a low budget production. However,
The Truth
doesn't require big budgets or flashy graphics to sell itself. It is what it is, no matter how it's ultimately packaged! At least, to those of us who actually study
The Word Of God
for ourselves....
The second thing that you'll notice is that, the latter video dealt with the issue of rectifying
All Of The Scriptures
- regarding Yahshua - rather than, relying upon a limited few of carefully selected ones. As the scriptures so clearly indicate,
The Truth
may only be discerned by studying them:
"Line upon line, line upon line, precept upon precept, precept upon precept, here a little, and there a little...."
Otherwise, we cannot possibly observe the scriptures from a
Proper
and
God-Given Perspective
.
Finally, the entire
Word Substitution Argument
- as found in the first video - was completely erroneous for one very simple reason. Entirely different words are subject to carrying: Multiple Meanings, Uses, and/or Connotations that are not found within the context of the other [so-called] equivalent terms. In essence,
The Term "God"
does not possess the exact same connotation as: "
The Trinity
," "
The Father
," or [even] "
The Son
" - since the term God is
A Generic Descriptor
, while the other three are [in fact]
Highly Specific References
as given in the scripture.
It's no wonder that these [supposedly equivalent] logical combinations made absolutely no sense at all. Rather than being a case of
Inferential
and
Deductive Logic
, we were being subjected to
A Cleverly Devised Sophistry
. Such
Simple Legal Tricks
may work in a human courtroom, but they will not work in
The Final Courtroom
being presided over by Yahweh! After all, it was He who inspired the sacred scriptures; and it is He, who also stated:
"Scripture is of no private interpretation, but holy men of Yahweh spake as His spirit invariably moved them."
Yahshua Was The Key To Yahweh's Salvation:
Yahshua is "The Key" to everything.
Yes, brothers and sisters, Yahshua was [in fact]
Our Creator
; and as such, He truly is Our God! But, He Himself was a creation - just as we were. The difference is that Yahweh [The Father]
Created Him First
; and Yahshua then created everything else that exists - for the ultimate glorification of Yahweh [His Father]. Nor, could it have been any other way - from
A Truly Logical Standpoint
. Think about it....
If,
The Creator
[Alone] can provide an atonement for His own personal creations; and such atonement fully requires the death of that specific creative god-head; then there had to be two distinct entities acting in spiritual concert.
The Death Of Yahweh
would result in the total annihilation of the entire
Space/Time Continuum
. After all, it is His
Conscious Thought
and/or
Exerted Will
- which holds the universe largely together. Nor, would there be a third party capable of accomplishing His own
Later Resurrection From Death
. Even an omnipotent being is bound by certain irreconcilable restrictions!
Yahshua was factually created for the sole purpose of Yahweh accomplishing this
Highly-Necessary Task
. When Yahshua faithfully laid down His own life, for the children of promise, Yahweh was there to resurrect Him - upon the third day - after the legal requirements were fully satisfied. Thus, both:
The Moral Law
and
God-Given Mercy
could safely co-exist alongside one another. No other created being could ever do so, or properly perform, in such a function. Not even,
The Father
Himself!
Both:
Father
and
Son
have always been
United In Spirit And Purpose
; but each of them has always had His own specified role to play - throughout our own unique human history. Yahweh glorified His Son, by allowing Yahshua the privilege of creating all that exists. While Yahshua glorified His Father, by providing the necessary sacrifice to atone for all of our human sins. Thus, each glorifies the other - to one singular and cohesive purpose.
Meanwhile, we were instructed to glorify Yahweh [The Father] - by Yahshua [His Son] - for making all of this actually possible... and, if we faithfully do so, then Yahweh [The Father] shall one day glorify us - as promised! It's really that simple....
So, What About The Holy Spirit?
The Dove, as: A Symbol Of Peace.
It is, merely,
The Spiritual Connection
that exists between everything that makes up Yahweh's own physical body. Since everything consists of His own
Carefully Maintained
and
Personal Energies
, He can and does:
Speak To Us
,
Encourage Us
, and
Edify Us
- minute by minute. More importantly, He:
Listens To Us
,
Observes Us
, and
Pays Close Attention To Us
- every solitary moment of time. Thus, Yahweh interjects Himself:
Into Our Thoughts
,
Offers Us Proper Motivations
, and
Reasons With Us
- as necessary, to achieve
His Desired Effects
- when we will honestly listen.
This is how
Yahweh Hears Our Prayers
; and how He is capable of answering them. And that is precisely why our prayers need not be:
Publicly Stated
,
Loudly Spoken
, nor
Repetitive
. In fact, He needs not [actually] hear them at all, since He knows
Our Necessary Requirements
- even before, we do ourselves!
However, All Fathers love to hear from their children and Yahweh isn't [really] any different. This is what Yahshua was trying to teach us - while He was here. But, very few were honestly prepared to listen in that exact time period. For that matter, how many are ready today?
Shalom.