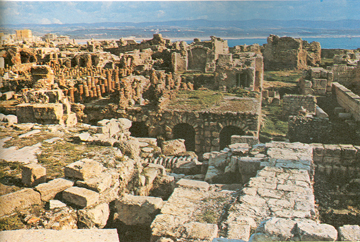 Is "Ancient Tyre," America's True Birthplace?
I have already written about:
"The Impending Destruction Of The United States [or, The False Prophet Of Revelation]"
- in several of my previous postings. However, I can now offer you an increasing number of highly-specific details regarding it. Therefore, I have decided to post upon this topic, yet again....
The Proclamations Made Against
"
Latter Day
"
Egypt
- which are found in:
Isaiah Chapter 19
and
Ezekiel Chapter 29
- are
Parallel
and
Concurrent Prophecies
with
Those Made Against
"
Latter Day
"
Tyre
[aka, America, or Tarshish]. These, can be found in:
Isaiah Chapter 18
,
Isaiah Chapter 23
,
Ezekiel Chapter 26
,
Ezekiel Chapter 27
, and
Revelation 6 verses 7 through 8
.
The Destruction Of Both Of These Prophesied Nations
come about
At The Very
Same Political Juncture
in human history - according to the scriptures, where it states quite plainly:
"When the report comes to Egypt

[at the time of Modern Day Egypt's great trouble - which is found in Isaiah 19 and Ezekiel 29]

, They also will be in agony at the report of Tyre

[In Modern Day Tarshish - as foretold in Isaiah 18 and Ezekiel 26]

."

- Isaiah 23:5.
"And it shall come to pass in that day, That Yahweh will thresh, From the channel of the River

[The Mighty Mississippi]

to the Brook of Egypt

[The Well-Renowned Nile]

; And you

[The Israelites]

will be gathered

one by one

[I shall not miss even one of you]

, O you children of Israel

[The ones whom I love]

.

So it shall be in that day

[This shall certainly occur]

, That the great trumpet will be blown

[The trumpet heralding Yahweh's Great and Imminent Feast to be held at The Wedding Of The Lamb]

; They

[The Children Of Israel]

will come, who are about to perish in the land of Assyria

[For their Humanly-Led and Aryan Government would desire to kill them within that nation]

,

And they who are outcasts in the land of Egypt

[And The Israelites who also dwell there as well]

, And shall worship Yahweh

[Their Creator]

in the Holy Mount at Jerusalem

[At The True Table of His Feasts]

."

- Isaiah 27:12-13.
As you can see from
The Daily News
, these promised historical events are even now
Beginning To Occur
as prophesied.
The Land Of Egypt
and its surrounding kingdoms are increasingly [even now] being
Plunged Into Great Political Turmoil
in preparation for
The Final Establishment of Latter Day Egypt
- signifying that
The Door
will [now very soon] be opening for
His Wedding Feast
. It is now
The Time Of Preparation
, so that we must be setting
Our Earthly Affairs
in perfect order....
We Must Be:
Exchanging our non-portable possessions for Silver and Gold - which can be easily carried to The Feast.
Acquiring our documents to travel across Babylon's More Numerous Kingdoms.
Seeking out: New, Clean, and White Wedding Garments.
And filling our Lamps With Oil.
How Can I Be Absolutely Certain Of This?
The "United Nations Building" located in New York.
Because,
The True Nation Of Tyre
[or those who once inhabited her] once again began working for their pay in 1946. And this was
Exactly 2520 Prophetic Days
after the destruction of her once proud coasts, by
King Nebudchadnezar
. At that time, she once again began:
"Committing fornication with all of the kingdoms of the world, upon the face of the earth"
- as it was so long ago prophesied, that she would. See my article regarding:
"The False Prophet of Revelation Chapter 13."
Ahava and Shalom.